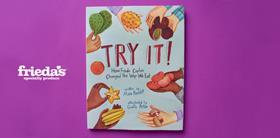 As Women's History Month draws to a close, US publishing house Simon & Schuster has released a new book honouring Frieda Caplan, the pioneering founder of Frieda's Specialty Produce who revolutionised the way American eat fruit and vegetables.
'Try It! How Frieda Caplan Changed the Way We Eat', is authored by Mara Rockliff and illustrated by Giselle Potter. Its launch comes as the company prepares to celebrate its 59th anniversary on 2 April.
Caplan introduced a whole new world of fruit and vegetables to US consumers—from baby carrots to blood oranges and kiwifruit.
"'Try it!'is what Frieda Caplan did," said Rockliff. "When she started selling produce in the 1950s, there were no women doing what she did.
"She could have given up and gone home, or she could have followed the men's lead and sold the same old apples and bananas and potatoes and tomatoes. Instead, she decided to try something new, and she changed the whole industry."
Caplan was credited with differentiating her products and building her niche through the clever use of product naming, clear labelling, customer education and interesting recipes, all of which remains deeply entrenched in the company's ethos.
"My mother always believed in thinking outside the produce box," said Karen Caplan the company's current CEO and president.
"In fact, my favourite story is how she was approached by a produce manager to locate what is now known as kiwifruit. She managed to get the first shipment on grocery store shelves, and, as they say, the rest is marketing history."
According to the company, the book has already received rave reviews and is the perfect way to inspire children to eat more fruit and vegetables.