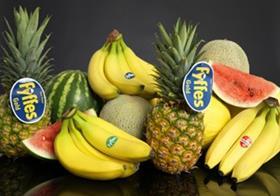 Fresh produce giant Fyffes has confirmed its full-year results for 2014, having published its preliminary report at the end of February.
The group reiterated that it had achieved a sixth consecutive year of earnings growth, with profit before taxation up to €38m from €28.7m in 2013, and total revenue – including share of joint ventures – rising to €1.09bn.
In his chairman's statement, chairman David McCann said that the group had performed 'very strongly', highlighting higher adjusted EBITDA and the fact that 2014 marked the sixth consecutive year of earnings growth.
'Profits were higher in each of the Group's three products but weighted to the pineapple and melon categories, reflecting continued improvements and efficiencies in our farming activities in particular,' he outlined. 'Fyffes continues to focus on the efficiency of its logistics. The Group has maintained its position as the largest importer in both the European banana and US melon categories.'
McCann welcomed the investments made by the group throughout the year, while hinting that Fyffes would continue to eye up future acquisitions across the supply chain.
'During 2014, the Group invested heavily in its existing operations with capital expenditure of €27.8m, including the completion of a new state of the art ripening and distribution centre in the north of England,' he said. 'A ripening and distribution business in China, which we commenced in late 2013 on a joint venture basis with a Philippines-based partner, has had a successful first full year and we intend to expand this operation in 2015.
'The Board is focused on continuing to grow the business and is actively pursuing a promising number of attractive acquisition opportunities,' McCann added. 'The Group is looking at transactions at all points in the supply chain from production to distribution. These potential deals may significantly expand the Group's geographic foot print.'