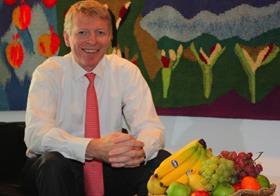 Fyffes chairman David McCann has told a leading German grocery weekly there is no question of its recent courtship with Chiquita placing the US multinational on a stronger competitive footing compared with the Dublin-based company.
Speaking to Mike Dawson and Andrea Wessel of the Lebensmittel Zeitung, McCann said that competing with a larger Chiquita, which is now owned by Brazilian orange juice giant Cutrale after it trumped Fyffes' merger plan to form ChiquitaFyffes, would not be harder as a result of information the Irish company shared with its US counterpar while due diligence was carried out.
"We were both cautious about the information we provided each other because we were competitors," McCann explained. "So, in fact, we didn't share an awful lot about the inner workings of our companies. In addition, there are anti-trust rules that prevent you from finding out this information anyway."
When asked how vulnerable the collapse of the merger had left Fyffes to a hostile takeover, he insisted the group wanted to buy, not be bought by, other companies.
"We are a public company, and as such you recognise that these things can happen," he said. "We hope to be the acquirer of companies and the people who design and create combinations."
Asked to consider a possible merger with a large European fresh produce company like Univeg, McCann sidestepped the question, preferring to reiterate Fyffes' plan to achieve new growth in its core market of north-western Europe as well as emerging markets in other parts of Europe and overseas.