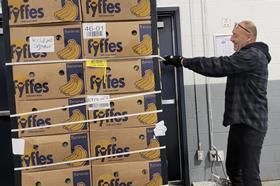 Fyffes and Breakfast Club of Canada (BCC) have announced a new partnership that will increase fresh fruit servings among school students in Montreal.
The pilot programme started during the second half of November. Fyffes has committed to a weekly donation of 5,000 bananas to BCC, aiming to donate an estimated 75,000 bananas by the end of March 2022.
The leading fresh produce company is also aiming to expand the ongoing programme beyond bananas to potentially supply melons, pineapples and other fruits in the future.
These donations will reach close to 7,000 children across Montreal, many of whom do not have access to fresh fruits at home.
"A healthy breakfast is incredibly important to stimulate children's education and development," said Tommy Kulczyk, general manager of Breakfast Club of Canada.
"It is thanks to the support of important partners like Fyffes that the Club is able to nourish the potential of children and make an impact on their lives, one breakfast at a time."
The partnership aligns with Fyffes' sustainability strategy and supports its goal of providing 5m healthy meals to vulnerable communities by 2025 by working with qualified partners.