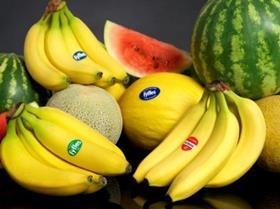 In a stock exchange announcement, Irish fresh produce giant Fyffes has reconfirmed its earnings targets for 2015.
'Fyffes has delivered a positive performance in the early months of 2015, with profits in the year to date in line with expectations,' the group statement read. 'The Group continues to pursue necessary increases in selling prices in all markets in response to the significant strengthening of the US Dollar against the Euro and Sterling.'
As a result, Fyffes said its 2015 target ranges were €44m-€50m for EBITDA, €36m-€42m for EBITA, €36m-€42m for EBIT, and an adjusted earning per share forecast of 10 cents to 11.8 cents.
'Having achieved a significant step up in profitability in 2014, the Group is focused on consolidating this higher earnings range,' the group continued. 'Fyffes remains very confident about the future prospects of its business and is well placed to compete strongly in its key markets, following important strategic and operational developments in recent years.
Fyffes continues to actively pursue a number of development opportunities in order to grow the Group further and increase shareholder value,' the group added. 'The Company may also repurchase further Fyffes shares in the market from time to time, subject to shareholder approval at its Annual General Meeting today.'