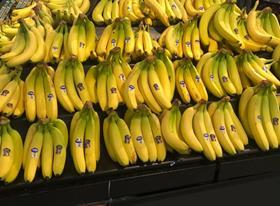 Fresh produce group Fyffes is looking to tap into the popularity of reality show The Masked Singer in the US, with the season 3 premiere on the horizon.
US shoppers will notice an unfamiliar character from the viral singing competition show on Fyffes bananas – a promotional sticker featuring 'The Banana', the first new costume from the upcoming season, which will exclusively appear on nearly all Fyffes banana clusters starting mid-January and through February.
"Fyffes is thrilled to partner with Fox to introduce the new costume on our bananas," said Marion Tabard, vice-president of marketing for Fyffes in North America. "It's a natural fit for Fyffes to feature 'The Banana'. We aim to catch the attention of produce shoppers and build excitement for the return of The Masked Singer.'
Season 3 of The Masked Singer, which features celebrities facing off against one another with each singer performing from head to toe in an elaborate costume, complete with full face mask to conceal his or her identity, premieres right after the Super Bowl on Fox in the US and will debut six new costumes worn by disguised celebrity singers.