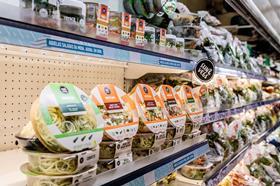 Grupo Alimentario Citrus (GAC) has posted a turnover of €324m in 2019, an increase of 5 per cent on the previous year.
CEO Rafael Boix said the company's sustainable growth trajectory was due to international expansion and diversification of customers and markets.
"2019 has been an important year for the international expansion of the group. It has meant integrating new businesses, consolidating our position in Europe and reinforcing our mission to become the company of choice for customers and consumers for fresh and healthy products," he stated.
With customers in more than 30 markets spread across four continents, international sales now account for 40 per cent of the company's total sales.
The incorporation of two ready-to-eat facilities, Novanatura and Josef Müller last year, together with the acquisition of Germany's Thurländer in 2018, have allowed GAC to strengthen its presence in the ready-to-eat market.
The company launched 50 new products in the past 12 months, including fresh-cut fruit, a premium range of 'ultra-fresh' salads, made to be eaten on the same day, and a line of 100 per cent vegetable spreads.
Last year also saw the consolidation of the Sun & Vegs and Byba brands. As well as supplying the main supermarkets in Spain and Portugal, the ready-to-eat Sun & Vegs is now distributed in Italy and Switzerland.
Baby food brand Byba has also continued its expansion in Europe and recently broke into the Asian market.
Since the company's creation in 2000, it has invested more than €200m in new acquisitions, innovation and sustainable growth.
In the last year, investments totalled €5m, of which €4m went into improvements in the company's production centres and farms, and €1m into research and development projects.