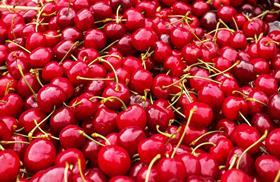 Germany's domestic cherry production is to fall this season while more fruit will be imported from nations outside of the EU.
That is according to a US Department of Agriculture (USDA) GAIN report, which focused on the German cherry market.
The report predicted that German cherry production for the 2020 marketing year would fall 11 per cent on 2019, down to 53,490m tonnes, although this is still 12 per cent above the ten-year average (2010-2019).
The yearly decrease was largely the result of late spring frosts and drought, the USDA noted.
Germany exports less than 10 per cent of its total cherry supply, between 4,000 to 9,000 tonnes in recent years, with its main export destinations including the Netherlands, Austria, UK, Denmark, and Sweden.
In terms of imports, the report showed that Germany remained the third largest importer of cherries in the world after China/Hong Kong and Russia.
For 2020, imports from other EU member states are expected to significantly decline because of lower exportable production in Hungary, Italy, and Spain, which were also hit by adverse weather conditions in spring.
The USDA said that this void is expected to be filled with higher imports from Turkey and Serbia.
In 2019, Germany imported 66,114 tonnes of cherries from around the world, down from the 72,998 tonnes it brought in during 2018.