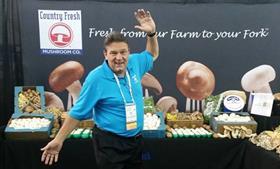 Giorgio Fresh has paid tribute to its senior vice president of sales, Bob Besix, who passed away earlier this month. He was 60 years old.
Besix began his extensive career in the fresh produce industry with Ralston Purina, where he cleaned growing room floors.
Besix's strong work ethic and ability to adapt to changes in the company's ownership saw him promoted to the position of packing room supervisor. It was there he caught the eye of his soon-to-be mentor, Aden Hillsman.
Realising he had a gift for understanding people, Hillsman assigned Besix to the Kansas City area for sales, with nothing more than a map of the area to go on. Besix soon owned the local mushroom market.
After Monterey Mushrooms purchased Terry Farms in 1999, Besix was deployed to cover the South-East region.
In 2003, he joined Country Fresh Mushrooms as a regional sales manager, eventually working his way up to senior vice president of sales and marketing. When GiorgioFresh acquired Country Fresh Mushrooms in 2019, Besix continued to serve in his role.
"Bob was the most positive person in his outlook and was a friend to many of his associates," said Greg Sagan, executive vice-president of marketing for Giorgio Fresh. "Even in his final days as he fought against cancer, he expressed deep concern and compassion for the team."
In his personal life, Besix was known as a man who supported and loved his family. He was an avid fisherman, griller, and lover of the outdoors. He enjoyed frequent camping trips, many with his family. Besix was also respected as a coach and referee for high school basketball.
"Bob was truly a remarkable example of love for others, and one I should follow. He will be sorely missed," said Joe Caldwell, president of Giorgio Fresh.
Besix leaves behind his loving wife, Lisa, and his children Chase and Laura.