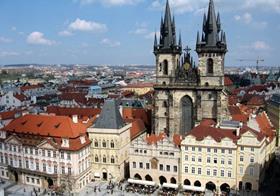 German importer Global Fruit Point has establised an office in Prague as it bids to increase its presence in the markets of eastern Europe on the back of growing demand for regular, direct supply programmes.

Under the direction of general manager Alexis Schlenew, the company's direct representation in the Czech capital is expected to help it respond to increased demand from retailers – many of them German groups – to be supplied directly with fresh fruit from overseas as well as from Europe.

'The company aims to position itself in the expanding east European market as an efficient partner for both food retail companies and producers/exporters,' said Mr Schlenew, who has worked extensively in the fruit sector both in eastern Europe and in Spain, amongst other locations.

For the time being, GFP Direct mainly supplies customers in the Czech Republic, Poland, Romania and Slovakia.

'Global Fruit Point is open for all types of cooperation and delivers its produce not only to the big retail groups but also for example to other wholesalers,' explained Mr Schlenew. 'As a second step, we are considering also the supply of Russia and the Baltic states.'

The group now offers customers in eastern Europe a full range of products, as it does through its German office.

The range includes a broad selection of table grapes, as well as deciduous, citrus and tropical fruit.

The Prague office will manage its own imports, enabling the company to distribute produce effectively in both eastern and western Europe.

Transport will be organised directly from Rotterdam or Hamburg to customers' central warehouses.

Both offices are set to use the same merchandise management system, guaranteeing its operations are fully reliable.

'Global Fruit Point offers clear advantages to its partners: direct supply of fruit means utmost freshness and attractive prices for the retail companies and major returns for the growers/exporters thanks to the exclusion of intermediaries,' added Mr Schlenew.

GFP's own QA department will continue to ensure complete traceability and food safety.