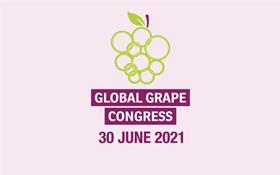 Global Grape Congress will take place on 30 June 2021, bringing together key players in the fresh table grape category to connect and share their experience and expertise.
The brand-new 24-hour congress will be streamed live globally, split into three parts (Melbourne, London and Los Angeles) to connect delegates in their own market and time-zone with the best insights, ideas and networking opportunities from around the world.
Through a combination of talks, interviews and discussions, Global Grape Congress will explore the latest developments in the business, including the development of new varieties, new technologies and new markets.
Expert speakers will offer insight into all areas of the table grape business, including key challenges like climate change and Covid-19.
Global Grape Congress 2021 represents an unmissable chance to grow your own business in fresh grapes.
For sponsorship and speaking opportunities, please contact our team at info@grapecongress.com. You can also subscribe to the mailing list here.