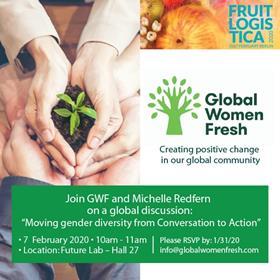 Global Women Fresh, the networking platform for the international fresh produce industry, has announced the line-up for its third networking event, which takes place at next week's Fruit Logistica in Berlin.
Guest speakers from four continents will take part in a panel discussion on the subject of 'Moving gender diversity from conversation to action'.
Michelle Redfern will give a keynote presentation on the theme of 'Moving gender diversity from conversation to action', before leading a panel discussion with Adriëlle Dankier, CEO of Nature's Pride, US recruitment specialist Carolyn Schubert, the United Nations' SheTrades initiative and a representative of the regional government of Catalonia.
Michelle is an award winning advisor, speaker and facilitator based in Melbourne, Australia. She is founder ofgender diversity and equality research group Advancing Women; professional women's network Women Who Get It; and co-founder of Culturally Diverse Women and Workforces (CDW).
Global Women Fresh was set up by Viviane Schappo, Monica Bratuti and Julie Escobar to improve the lives of women at every level of the agricultural sector.
"Global Women Fresh is committed to making a difference for women in the agricultural sector, all the way from the field to the boardroom," said Escobar. "We strongly believe there are great opportunities for women around the world to come together and share ideas, collaborate with each other and inspire the global agricultural community."
The event takes place from 10-11am on Friday 7 February at the Future Lab in Hall 27. Those wishing to attend should email infor@globalwomenfresh.com by 31 January.