GreenTech Americas took place last month in Mexico, with Dutch companies keen to offer their technological expertise
The second edition of GreenTech Americas, organised by RAI Amsterdam in partnership with Tarsus Mexico, hosted 170 exhibitors from 15 countries at the Querétaro Congress Center in Mexico last month, including 70 from the Netherlands.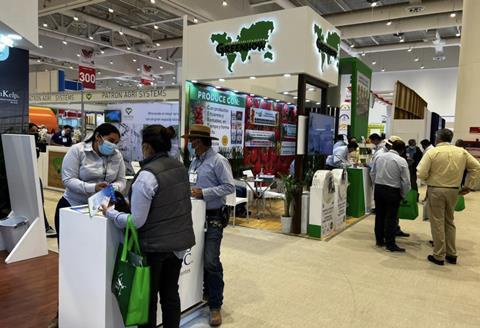 "The Dutch agricultural sector is very large in Mexico," said the Dutch ambassador to Mexico, H.E. Wilfred Mohr, "so we are very pleased to be here, supporting the Mexican countryside to enter its production and improve the quality of products and services."
Eric Douw, sales and business development manager for North and Central America at Kubo Greenhouse Projects, commented: "We are participating in GreenTech Americas because we have seen an upcoming demand for safe food, water reduction, less energy, higher quality and more production per square metre, so we believe we can contribute with our already proven concept to the Mexican market; we need to explore new opportunities, meet new people, Mexican growers and new companies in the region."
GreenTech Americas' Start-up Challenge, focused on innovative and sustainable solutions, was won by Blue Radix and PATS Indoor Drone Solutions.
Ronald Hoek, CEO of Blue Radix, said the company was interested in expanding in Mexico. "We see many more opportunities here, there are good greenhouses, people who want to move forward and be more prepared for the future," he explained. "We believe that with algorithms and artificial intelligence we can contribute to development in the region. Without a doubt this is the perfect platform to tell our story."
Bram Tijmons, CEO of PATS Indoor Drone Solutions, commented: "Being at GreenTech Americas as one of the winners of the Start-up Challenge aimed at protected agriculture is a great opportunity to network, validate and learn more about our market, in addition to being in contact with the people who suffer the effects in areas that are not insect-free and help protect them through drones."