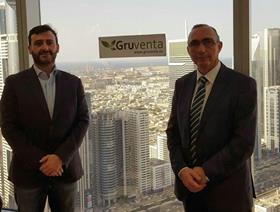 Murcian grower-exporter Gruventa has opened a new sales office in Dubai, signalling the firm's commitment to expanding its presence in the Middle East. The office will be headed up by José Diego Manzanera.
Managing director Fermín Sánchez said the market "appreciates the quality of our fruits and vegetables and is not only totally complementary to the European Union but vital to the growth and profitability of Spain's fresh produce industry.
Last week Gruventa took part in a trade mission organised by the Murcian Trade Promotion Institute (INFO) and the European Fund for Regional Development (FEDER) to enable Murcian firms to gain a better understanding of the Qatari and UAE markets.
"These markets are extremely important for the development of Spain's fruit and vegetable industry and it is imperative that we gain a better understanding through missions such as this," Sánchez said.
As one of the region's most outward looking companies Gruventa has made it a priority to break into new markets beyond the EU. The company is a long-time exhibitor at Asia Fruit Logistica and has well-established programmes in Hong Kong, Singapore and Malaysia.