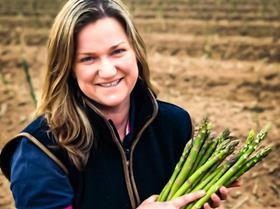 Guelph Equinox, the early season asparagus variety, has been one of the first hybrids to come to harvest this asparagus season according to Global Plant Genetics (GPG), the company handling the cultivar's seed marketing and distribution in Europe.
In spite of the challenging circumstances caused by the coronavirus pandemic, GPG reports high demand for the cultivar, which it describes as having "an impressive combination of precocity, high yields and excellent spear quality".
GPG's Jamie Petchell said seed sales Guelph Equinox have been strong in its first year of appreciable availability.
"Seed quality from Canadian production is excellent and the variety performs very well in terms of germination and its ability to produce large crowns in the nursery setting," he stated.
"From discussions with our nursery customers across Europe, we understand that crowns for planting in spring 2021 are already in very short supply. This is a great testament to the variety's credentials."
Caroline Hulland, a Shropshire-based asparagus grower and chairperson of the produce marketing business, Westgrowers, who first planted the Guelph Equinox variety in 2018, claims it has grown extremely well in its establishment years.
"I have to say that its performance has been pretty amazing. The spears were extremely early to emerge, and they have a fantastic flavour," she said.
"The variety is performing superbly under plastic. After seeing the harvest this season, we will be increasing our production area of Guelph Equinox in 2020."
Guelph Equinox was bred at the University of Guelph in Ontario, Canada by Dr David Wolyn and follows its predecessor, Guelph Millennium.
It has since been tested in a range of North American and European locations. Seed production and distribution rights are exclusively with Fox Seeds, also based in Ontario.
According to Wolyn, Guelph Equinox has outperformed Guelph Millennium in several trials.
"Bred in a temperate climate with cold winters and sharing genetics with the long-lived Millennium, Equinox can be a productive cultivar in many areas," he said.
Ken Wall, chairman of Fox Seeds, the largest producer and marketer of asparagus in Canada, said Guelph Equinox is performing in Europe as well as in a number of areas across North America and Canada.