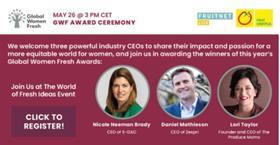 Global Women Fresh (GWF), the international network for women in produce, has announced the speaker line-up for its latest webinar, which takes place on 26 May under the auspices of Fruitnet's World of Fresh Ideas online learning and networking event.
Zespri CEO Daniel Mathieson, Nicole Neeman Brady, CEO of S-DAC and Lori Taylor, founder and CEO of Produce Moms, join moderator Michelle Redfern for a lively discussion on issues affecting women in produce.
This will be followed by the announcement of the winners of the inaugural GWF Woman of Impact and EmpowerHER Awards.
"We've invited three exceptional industry speakers to join us for critical conversations around gender equity, setting the stage for the exciting announcement of the winners of our first ever awards celebrating the role of women in the global fresh produce arena," said founder Julie Escobar.
"We're thrilled with the amount of nominations we have received for the awards, as well as the support of companies who have already come forward to sponsor the event and the work that GWF does.
"We'd invite more companies to get involved and help us to empower, inspire and connect women around the world."
Fruitnet's World of Fresh Ideas is a live online learning and networking event for the global fresh fruit and vegetable business that takes place over two days on 26 and 27 May.
It will feature four different programme tracks offering a wide range of talks, interviews, and interactive discussions with experts from across the international fresh produce business.
You can register for the GWF webinar and World of Fresh Ideas by clicking on the following link: https://www.worldoffreshideas.com/