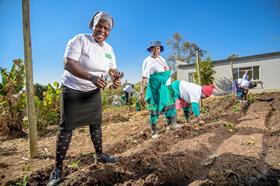 Staff at South African produce giant Halls came out in force last week to help local communities in Nelspruit in a range of CSR initiatives to commemorate Mandela Day 2019.
Celebrated each year on 18 July, Mandela Day honours the former South African leader by asking volunteers to dedicate 67 minutes –one for every year that Mandela fought for justice – to volunteer for community service.
"As part of our ongoing commitment to Corporate Social Investment, this year teams from Halls and Halls Properties came out in numbers to dedicate 67 minutes of their service to different projects in and around the Mataffin and Phumulani communities," Halls said in a press release.
"The day was filled with fun, sweat and joy as employees touched the hearts of over 1,600 people."
Among the projects undertaken this year were the establishment of a food garden at Woodhouse Community Centre; the preparation of a children's shelter in the Mbombela Drop-in Centre; the preparation of a soup kitchen to feed children and staff at the Sakha Sive Crèche; and painting the interior and exterior of the Little Busy Edu-care centre.