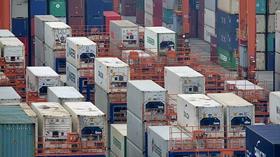 Hongkong International Terminals (HIT) has announced the launch its new Remote Reefer Container Monitoring System allowing for continuous automated remote management of refrigerated containers.
HIT has implemented the system to provide greater visibility and accuracy on container conditions such as temperature, humidity and CO2 levels.
Leonard Fung, managing director of HIT, said the upgrade should to enhance the terminals' operational efficiency and occupational safety, enabling it to capture growing business opportunities in the cold chain logistics market.
'To stay ahead of the ever-changing market landscape, HIT has long been investing resources in bolstering its competitiveness through technological innovation, operational excellence and facilities improvement,' said Fung.
'The launch of the Remote Reefer Container Monitoring System is itself a cornerstone signifying the importance of digitalising terminal operations.
'This will go a long way in enhancing the holistic operational efficiency and competitiveness of our terminals while reaffirming the city's leading status in the cold chain logistics industry.'
The port of Hong Kong has over 8,000 reefer points and in 2020 Hong Kong handled around 900,000 TEU of reefer containers in 2020.
Fresh produce worth more than US$3bn arrives in Hong Kong annually around 60 per cent of which is then transported onward to mainland China.
The System has been fully deployed at HIT, COSCO-HIT and Asia Container Terminals (ACT), the biggest coverage of its kind in the Greater Bay Area. Prior to this, reefer workers had to go on-site to check reefer conditions and alarms regularly.