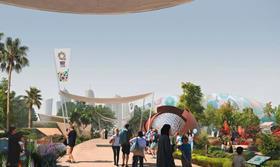 Most people are aware of the World's Fair that Dubai will be hosting soon, but many may not know about another expo in the Middle East, this one hosted by Doha, Qatar.
Doha's Horticultural Expo was initially meant to take place this year, but it was postponed until 2023 due to the Covid-19 crisis.
First held in the Dutch city of Rotterdam in 1960,Horticultural Expo aims to raise the public's awareness of sustainability and environmental issues, promote the development of the horticultural and landscaping industry, and accelerate global cooperation in professional horticulture.
The most recent horticulture expo, Expo 2019, was held in Beijing with the theme, "Live Green, Live Better", and showcased a wide variety of fruits, vegetables, flowers and herbs from across the world.
The theme for Doha 2023 is 'Green Desert, Better Environment', with the aim to inform and inspire visitors concerning innovative solutions to mitigate desertification.
The expo has four subthemes: Modern Agriculture, Technology and Innovation, Environmental Awareness and Sustainability.
According to the website, emphasis will be placed on urban and vertical farming, hydroponics and aquaponics, alternative energy sources and FoodPrint.
'By FoodPrint, we understand that the most immediate problem facing us on a daily basis is the secure access to healthy food,' the website states. 'The acuteness of this issue will sharply focus the public's attention. We aim to emphasise the reduction of food waste, the encouragement of healthy eating, support for sustainable agriculture, and a 'start your own garden' programme.'
Like much of the Gulf, Qatar is undergoing large economic development and diversification, with the UAE and Saudi Arabia prioritising sustainability and food security.
As part of its wider food security plan, the UAE is building greenhouses in order to produce more fruits and vegetables locally, while vertical greenhouses and other agritech innovations are helping the region show its potential in the sector.