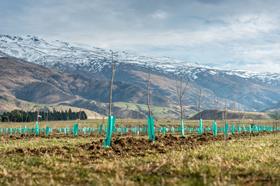 The first 12ha of cherry trees have been planted at Mt Pisa Station, Central Otago, marking the end of the first stage Hortinvest's NZ$15.5m (US$9.7m) cherry development.
In first stage, 7,500 trees were planted and the second and largest planting is scheduled for winter 2020. The final planting set for winter 2021 bringing the total to 53,000 trees spread across 80ha.
The Mt Pisa development is one of Hortinvest's two NZ$15.5m cherry developments in the region. Stage one planting at its Lindis Peaks Station development is also complete.
Both developments are expected produce premium quality cherries for export to Asian and European markets from the summer of 2021-2022.
Ross Kirk, Hortinvest project and orchard manager, said it had been a successful start to the project.
'Irrigation is now being installed so we can start piping water (from the Clutha River) to the newly planted trees,' Kirk said.
'We're now also in the final stages of negotiations with several large investors looking to commit to Mt Pisa, with the project now more than 49 per cent subscribed."
Mt Pisa Station landowners, the MacMillan family, were among the key investors who underwrote the planting as the development approaches the investment deadline of 27 September.
Shane MacMillan, manager of Mt Pisa Station, said projected returns from the family's share of the cherry development would deliver as much as the 4,600ha farm would in a year.
'The intensive nature of cherry production means the returns come faster (than agriculture),' MacMillan said.
'We're lucky to have the land which is ideal for cherry production - as well as access to the Clutha River for water. It's happened pretty quickly since we started talking about it and, by this time next year, the second planting will be complete."