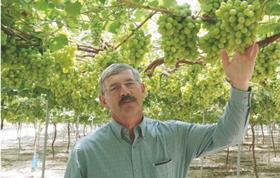 David Cain, founder and chief plant breeder of International Fruit Genetics (IFG), has been awarded the 2020 Wilder Medal by the American Pomological Society.
The medal was given in recognition of Cain's contributions throughout his 42-year career in fruit breeding.
Cain has developed or co-developed 94 cultivars of fruits, including 66 table grapes, ten sweet cherries, nine plums, four apricots, four peaches and one nectarine cultivars.
These are being grown across all continents except Antarctica and have resulted in more than 75 US plant patents and more than 200 Plant Breeders Rights applications worldwide.
Cain founded IFG in 2000 and in 2009 he released his first IFG table grape varieties that resulted in US plant patents for the trademarked Sweet Surrender and Sweet Sunshine.
In addition to IFG, Cain has also worked for plant breeder Sun World and held research positions at Clemson University and the USDA Agricultural Research Service.
Andy Higgins, chief executive of IFG, said Cain's significant body of work was worthy of acknowledgment.
"This award is substantial recognition for all that David Cain has accomplished and contributed to the industry over his career," said Higgins.
"His vision and impact have changed the table grape industry. We are excited he has received such an esteemed and significant award for his work."