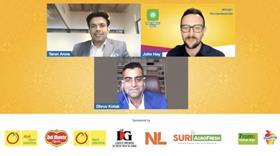 As Fresh Produce India turned its attention to logistics, the event's fourth session explored the ways in which the sector is evolving to meet the demand for a more sophisticated cold chain.
Indian logistics' challenging reputation has been long-held, but new projects and a government push for privatisation may be about to usher in a new era.
Hope on the horizon
Dhruv Kotak of J M Baxi Group and Tarun Arora of IG International joined Fresh Produce India to discuss what the future holds for Indian logistics and a new cold storage project between the two companies.
Kotak outlined the main challenges facing the sector at the moment and said that overcoming them was not an unachievable task.
"In India we have quite a bit of cold chain capacity, the problem is it's technologically inadequate and it's not necessarily in all the right areas. There are very few companies that understand the value of creating a strong cold chain infrastructure in India," said Kotak.
One of the trends that could usher in major change is the Indian government's privatisation push. Kotak believed this will deliver scaled up cold chain infrastructure integrated with road, rail, port and airport in the coming years.
"The government is currently in a huge thrust to look at the privatisation of ports, railway land and railway stations… you are seeing a government that has so much will to bring in private efficiencies across the spectrum," said Kotak.
"I think you will see some very strong business models and companies emerge from it providing some very strong solutions to the economy."
A new project
IG International and J M Baxi Group have partnered to build a world class cold storage facility at Nhava Sheva near Mumbai.
Arora told Fresh Produce India the facility will consolidate the typical journey of a fresh produce shipment - from port to freight station to cold storage to distribution centre to wholesale outlet – in one place.
"We started the facility in December and we will make it operational in the next 60 days. It is a new business concept, we are trying to integrate seamless movement of cargo from port to our customer," Arora explained.
"We are trying to change and have the customer come to one facility and reduce the turnaround time from six to eight days to one or two days."
Kotak said with the popularity of imported fruit in India growing, particularly in the middle class, facilities such as this could become crucial.
"(Where IG has) shrunk the supply chain to benefit the consumer, I think that concept can be extended deeper into the country in different places."
Rail hub
Looking inland, Deepak Kanuga of Hind Terminals shared the advantages of the company's inland container terminal at Palwal, south of Delhi.
The logistics park provides an efficient connection to the northwestern coast of India and features such as a 10,000-tonne capacity cold storage facility and banana ripening rooms enhance the inland distribution of fresh produce.
"We have a capacity of taking a reefer container from Mundra Port to our logistics park within two days of discharge," said Kanuga.
Kanuga said the consumption power of Indian consumers was increasing. This resulted increased spending on fresh fruit as consumers looked to purchase fruit year-round through imports.
Kanuga was confident the country's railways would be capable of meeting the rising demand from the fresh produce sector and noted the combined capacity of public railways and associations of private railways.