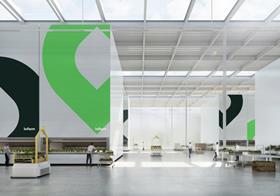 Urban farming group Infarm has announced that it is planning to establish a second Growing Center in the US in Kyle, just outside of Austin, Texas.
It marks the first step in the company's further expansion roadmap for the US, with Infarm planning for up to five additional locations across the country.
This will ultimately increase the total size of its growing facilities to over 500,000 square feet. The existing vertical farming facility is located in Seattle, Washington, and was opened in 2019.
"The US plays a significant role in our global expansion plans,' said Erez Galonska, CEO and co-founder of Infarm. 'Opening our next Growing Centre in Texas is strategically important for Infarm as Texas and the region around Austin are high potential markets for our fresh produce.
'When fully equipped, the Growing Center will be able to feed more than 18m people living in the Texas Triangle, bringing fresh produce from our controlled, localised systems that minimise climate and supply chain risk by growing food reliably 24/7, 365 days per year close to consumers," Galonska added.
Infarm's new location will be equipped with several of Infarm's modular large-scale farming units.
According to Infarm the units stand up to 33ft tall and each of them only requires 430 square footage of ground space, producing the crop equivalent of land the size of a football field, using 95 per cent less water and 95 per cent less land compared to traditional soil-based agriculture.
'To date as part of its worldwide operations, Infarm has saved more than 16m gallons of water and 600,000 square feet of land,' the company noted.
Currently present in 11 countries worldwide, Infarm plans to establish 100 growing locations in 20 countries by 2030.
In the US and Canada, it has had long-term agreements with major retailers Kroger, Sobeys, Safeway, and Thrifty Foods since 2019 and 2020 respectively.