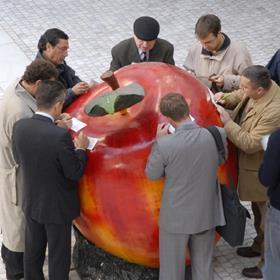 From 6-8 November 2008, the Fiera Bolzano exhibition centre in the north-east Italian region of South Tyrol will open its doors for the sixth edition of Interpoma, the biennial international trade fair which focuses exclusively on the growing, storage and marketing of apples.
Interpoma is billed as the ideal forum for discovering the latest trends in the topfruit sector and finding information about new products and services. The event is also seen as an important place to finalise business deals and meet with the world's top apple industry experts.
The trade fair's supporting programme includes the now traditional international conference entitled The Apple in the World, whose organiser Kurt Werth is a leading authority in the apple sector. This time around, the conference will cover a number of topical issues including 'Harmonisation and new pesticide residue regulations', 'Trends in organic apple production and marketing' and 'Restrictions and barriers in the world apple market'.
The only trade fair in the world dedicated exclusively to the apple industry, Interpoma focuses on growing, storage and marketing. The 15,000m2 exhibition area provides ample space in which to explore innovations and trends in sorting technology, packing machinery and materials, according to the event's organisers.
Visitors will also be able to view state-of-the-art systems and equipment for tree care, soil care and transport, as well as devices and materials for tree nurseries and harvesting. As regards storage technology, Interpoma 2008 will showcase the latest refrigeration systems, measuring and regulation systems, internal transport systems, prefabricated units for construction, insulating materials and storage hygiene solutions.
Attendance figures for the most recent fair underline both the importance of the exhibition and its dynamic, international appeal: 9,646 specialist visitors from 38 countries and 273 exhibiting companies, a third of them from abroad, attended Interpoma 2006.
As the largest contiguous apple growing area in the world, with 18,000ha of cultivated area, South Tyrol represents the ideal location for this biennial trade fair, which has become an unmissable event for operators within the sector.