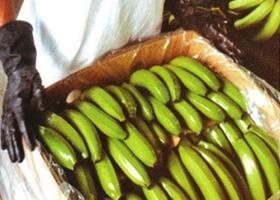 The Philippines hopes it may soon increase banana exports to Iran following recent talks between leading officials from the two countries.
Philippine vice president Jejomar Binay told local media that Iran would look to trade more in Asia in future at the expense of Europe and that the Philippines would likely benefit from this.
Binay said Iranian Foreign Minister Ali Akbar Salehi told him that his country was pouring money into China. 'He said Iran has reduced its investments in Europe, and has put in at least 50bn euros (US$63bn) in China,' Binay said.
He added that he and Salehi had discussed increasing Iran's imports of Philippine bananas as well as opportunities for increased Iranian investments in the country.
'We agreed to encourage our respective chambers of commerce to discuss the various ways and means of engaging in expanded investments and trade. Officers and members of the Iranian Chamber of Commerce may be coming to the Philippines soon as a result of this initiative,' Binay said.
Binay was in Iran on a 3-day visit to attend the 16th Summit of the heads of state and government of the Non-Aligned Movement.