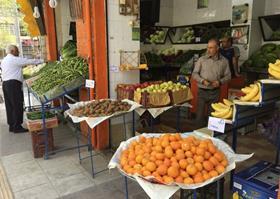 Optimism has been growing in Iran since the departure of Donald Trump, whose 2018 decision to unilaterally withdraw from the nuclear deal and reimpose sanctions have helped to strangle the Iranian economy.
With the election of Joe Biden, hope has been returning, despite the US president's announcement this week that economic sanctions would not be lifted as a means of getting Iran back to the negotiating table.
"Although no improvements have actually been made, people are looking to the future with optimism, and they are hoping that the sanctions will be removed," said Reza Mansuri, marketing manager at Tehran-based Zarrin Group.
Iranian consumers watching their purchasing power plummet share that hope. Meanwhile, given high inflation, the crippling devaluation of the Iranian rial and a sharp increase in costs of pesticides and fertilisers, domestic growers of various products have complained of having to sell at a loss and not receiving the necessary government support.
Due to Iran's limited access to foreign currency funds, the government has banned imports of many products, including bananas, and this has caused prices to skyrocket, according to Mansuri.
"No import permits have been issued for some months," he said. "Banana prices have soared, as old permits come to an end. This has also led to increased consumption of local fruits, which has caused their prices to rise as well. We expect the import ban to be lifted soon."
Even with banana imports significantly reduced, consumption has been hit by the Covid-19 pandemic in Iran, with many events and ceremonies being cancelled or severely reduced in size.
Perhaps unexpectedly, the crisis has caused no additional problems for shipping lines, Mansuri revealed, with schedules being completed on time. However, with significant volumes of Ecuadorean bananas being imported into Iran via Turkey, restrictions to traffic across land borders have caused delays to trucks.