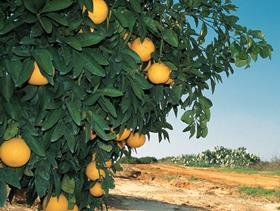 Israel's government has signed a new order allowing thousands of young people over the age of 18 to take part in the citrus harvest as the country faces a severe shortage of pickers because of the coronavirus crisis.
With around 60 per cent of the harvest picked by the end of March, producers said the move would help thousands of farms that have been in short supply of labour since the introduction of restrictions on the movement of Thai and Palestinian workers since the start of the outbreak.
According to data published by the Plants Production and Marketing Board, since the beginning of the Corona crisis, 15,000 Thai workers who left the country have not been allowed back in, with another 5,000 Palestinian workers face similar restrictions.
Even before the crisis, the sector was facing a major labour crisis, with estimates putting the shortfall of seasonal workers at around 16,000.
The young workers will be required to comply with the strict regulations set out by the Ministry of Health to prevent contagion, including maintaining a distance of 2 metres from co-workers, wearing gloves and facemasks and regular hand washing.
Volunteers will work for alternate 10-day periods in order to prevent cross contamination.
In addition to the young recruits, Israel has been a dramatic increase in volunteers who have been put on unpaid leave because of the outbreak and prefer to contribute to society rather than staying at home.
Joel Silberman, director of the New Guard, an organisation that aims to foster the relationship between farmers and society in Israel, said: "This week we received some very important news for the entire state of Israel, the Ministry of Education will now allow Israeli youth to engage in saving the country's food, fruit and vegetables.
"This has tremendous significance in a situation where farmers are experiencing a huge labour crisis that directly threatens the crops.
"Let's hope this move also signals a change of atmosphere and the seeking of solutions to bring about the end of the crisis."