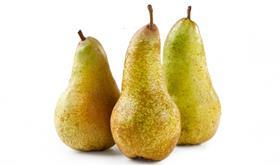 Members of the Italian pear industry will try to identify more effective defence strategies against pests and diseases when they convene in Ferrara on 28-30 November for the third biannual trade event FuturPera.
During the World Pear Form, a special conference organised at the event by marketing agency CSO Italy, various meetings and technical focus groups will address the very real threat posed by a pest called the brown marmorated stink bug, as well as aggressive forms of brown spot disease.
Both have caused considerable damage to production for several years, with this year's stink bug outbreak in Italy one of the worst on record: interprofessional organisation OI Pera has estimated an average loss to pear production in Italy of around 34 per cent this season.
Albano Bergami, member of the FuturPera board and deputy chairman of OI Pera, believes the Italian pear sector must tackle such problems head on and continue to supply the global market with a good range of excellent quality products, in the midst of strong competition from other supply countries.
"It is certainly a difficult year in terms of production,' he explains, 'because the climate conditions have not been conducive to the correct vegetation of the plants, the numbers of flowers were low and the frequent rain caused various problems from a phytosanitary perspective.'
With the national crop cut by around one-third, the entire supply chain is suffering, he admits.
'Therefore, we have decided to transform our main technical convention into a strategic forum, an opportunity to join forces and find solutions for overcoming the gap in production of this campaign,' he says.
'All of the organisational staff of the event are carefully evaluating the general needs of pear growers, the part of the production chain that is particularly troubled, in order to develop a program of targeted interventions for the general improvement of production.
'This means talking about climate imbalance and orchard management, effective plant protection, new planting methods – with an eye on those 'from the past' that were used decades ago, in order to evaluate the best choice and obtain a good product while limiting production costs.'
For Bergami, the Italian pear business finds itself at a turning point. 'It is only possible to overcome such a complicated situation by working together, with clear and shared goals. We believe that this edition of FuturPera may be the 'ground zero; for the pear growing supply chain.'