There's just one week left to register for Fruitnet's inaugural Global Tropicals Congress on 14 September
How is demand for tropical fruit holding up in the cost-of-living crisis? What can be done to prevent the commoditisation of key product lines such as mangoes? What role can India play in the European exotic fruit market? How are suppliers meeting the sustainability challenge? And which new passion fruit variety is poised to shake up the category?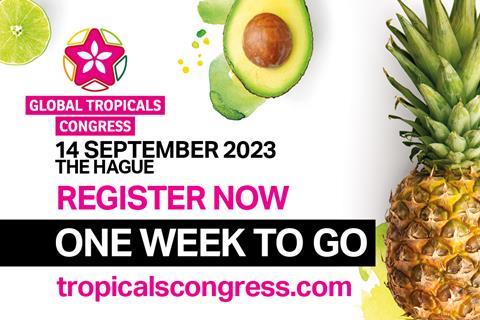 If you'd like to know the answers to these and many more questions about the future of the European tropical fruit market, discussed by experts from across the fresh produce supply chain, there's still time to register for the Global Tropicals Congress, which takes place on Thursday, 14 September.
Leading companies including Dole, AMFresh, Westfalia, Olympic Fruit, Fruit Market International, Wealmoor, Blue Skies and many more, will gather for Fruitnet's inaugural congress at the Postillion Hotel and Convention Centre in The Hague for a packed one-day conference programme of talks, presentations, interviews and tastings that all take place in a bustling networking and expo space.
Click here to see the full agenda for Global Tropicals Congress.
Click here to register for Global Tropicals Congress.