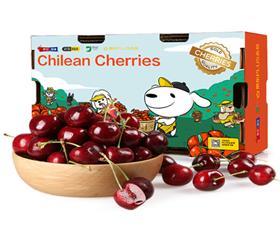 JD Fresh has opened China's Chilean cherry import season with its first shipment from leading exporter Garces Fruit.
The cherries arrived on 25 October and were sold by JD.com's online fresh food business as part of the pre-sale for its 2021 Singles Day Grand Promotion.
Last season JD Fresh's cherry sales reached nearly Rmb500m (US$78.3m) and the company has predicted even more growth this season because of the continuous enhancement of its overseas direct sourcing supply chain.
"JD Fresh will directly procure more than 1.8m boxes (5kg) of cherries from Chile by the end of 2022, and the overall sales are expected to exceed Rmb1bn (US$156.6m)," said JD Fresh in a press release.
"As of October 22, 2021, the pre-sale volume of JD Fresh cherries increased by 150 per cent year-on-year."
This season JD fresh has focused on overseas direct sourcing, the upstream supply chain, and its partnership with Garces Fruit all with the aim of enhancing and control-ling the quality of imported cherries.
"JD.com established a full-process guarantee system, focusing on the three aspects of pre-sales, in-sales, and after-sales in response to multiple pain points such as cherry varieties, specifications, net weights, and quality," said the company.
"The epidemic prevention standards have also been upgraded. With triple-strength quality inspection, JD checks the quality of the Chilean packaging plant, the port of arrival, and JD Fresh's self-operated warehouse.
"In addition to having a QR code for tracking, each batch of cherries can only be admitted to the JD warehouse in the condition of having a Covid-19 test report, inspection & quarantine certificate for entry goods, and a sanitisation report."