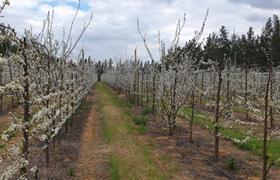 Global fresh produce grower Jupiter Group has revealed that its Ruby Sun plums are developing well in South Africa, having reached the blooming period in their lifecycle this season.
The UK-based company, which is better known for its expertise in citrus and table grape production, announced that its Ruby Sun plums would be ready to harvest from mid-December 2021.
As publicised earlier this year, Jupiter is also trialling six new varieties of South African plums in the northern hemisphere for the first time.
In co-operation with its kiwifruit partner in Greece, Nestos, Jupiter has secured several plum varieties, namely African Delight, Ruby Star, African Rose, Ruby Sun, Ruby Crisp and Sun Kiss, planting them in "the ideal conditions of northern Greece".
"The plum varieties have been specially selected from Culdevco licensed cultivars," Jupiter stated, "a deciduous fruit licensor that curates and licenses innovative new varieties of peaches, plums, pears, table grapes and apples. The six varieties have been selected for their flavour, quality and likelihood to flourish in the prime surroundings of Kavala, Greece."
Jupiter said it had been planning the project for two years and expected to see samples of European production "in a couple of years' time".