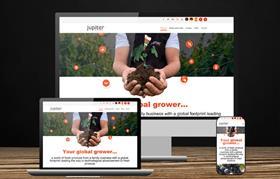 Hot on the heels of its first digital event, Jupiter ONLINE, and the announcement that it was implementing blockchain technology throughout its supply chain, Jupiter Group has launched a brand new, state-of-the-art corporate website.
The new, faster website is easy to navigate and features a news section covering key category developments and articles, and access to Global Roots, the company's quarterly magazine.
It also includes key information on Jupiter's core range – grapes, citrus, avocado, pineapple, melon, lime, kiwifruit and prepared fruit – in the form of a brief overview, a handy supply calendar and a 'why us?' section providing company information.
Visitors to the website are also able to access The Pod, an exclusive podcast series sharing insights into the world of farming and fresh produce.
Head of marketing Kirsty Fleetwood said:"It's imperative that as part of our journey as a business we ensure that all of our digital assets are both relevant and up to date to reflect an unvarnished and honest reflection of what we have to offer.
"Though our previous website was only two years old, Jupiter has changed extensively during that time, we needed to update our positioning on our comms, and the website was the boldest place to start."

Managing director Yvonne Tweddle added: "We're really proud of the new website and the way it encompasses what we offer as a group. As always we are keen to offer a seamless and easy viewing experience on any device effortlessly."