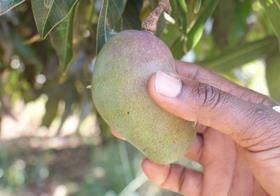 Kenyan mango exports to Europe could more than triple by the end of this year, following an apparent increase demand for the product in several European markets including the UK, Netherlands, Germany, Switzerland and France. According to trade sources, demand for the fruit has been on the increase across a number of sectors, including supermarket retail, restaurant catering and the hotel market, prompting some of the country's exporters to invest in new production this year.
In 2012, Kenya exported around 4,000 tonnes of mangoes to Europe, but forecasts this year suggest that figure could increase by up to 11,000 tonnes. "What we are witnessing as exporters is that demand for mango from Kenya has been on the increase," says Stephen Mbithi, chief executive of the Fresh Produce Exporters Association of Kenya (Fpeak), which counts more than 30 Kenyan mango export companies among its members. "Often, suppliers cannot meet the high demand, making competition very tough."
Through private sector investment, he says, Kenya is planning to rise to that challenge and grow its export markets through strategic development and effective marketing techniques, competing on the international market with other sources of supply like Brazil, South Africa, Japan, the US and Tanzania. "AtFpeakwe hope to increase earnings this year from mango exports," he says. "We are working with over 20 private companies based in Kenya. If we have to meet demand, one of the challenges that we have to overcome is to purchase more land to cultivate mangoes."
To that end, the association's members plan to purchase a substantial area of land later this year. "We also hope to hire competitive labour as part of the plan," Mbithi explains. "There are reasons to expand mango growing in Kenya such as to meet the demand. You have to realise that a hectare of mango takes 120 trees spaced nine meters apart. After six months of planting, farmers usually get the first fruit. So the final result is good."
Avocados and mangoes are Kenya's most important fresh fruit exports to the European Union.
"I ventured into mango farming three years ago and the returns are very good. I make up to Ks2m (€17,230) per year exporting mangoes," says Joshua Mwaniki, who grows the fruit on a little under 1ha of his 16ha farm, which also produces other fruits including avocados. "I can afford to pay school fees for my children as well as the expenses of other children in the village through mango exports."
Prof Germano Mwabu, who teaches economics at the University of Nairobi, believes the potential for the Kenyan mango export business to keep growing is considerable. "If you have to market mangoes, you have to look at the market needs," he comments. "So far, the international market has been the best option for Kenyan mango products. We have the potential as a country to export up to 20,000 tonnes if we can meet the increasing demand."