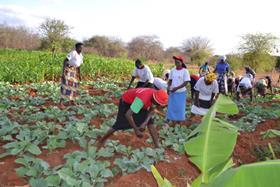 With a potential market capitalisation of US$1.5bn, Kenya Fruits Ltd is set to become the largest horticultural company in Eastern Africa when it starts trading in May, having already gained approval from the country's government to become a registered company.
'We own nine farms which we cultivate mostly horticultural crops,' explained Anthony Muthama, chairman and chief founder of Kenya Fruits. 'Each one averages aapproximately 4,107 acres in size. so we have the resources as a company. Apart from exporting to North America, we plan to export huge quantities of fruit and vegetables to Europe.
Among the products the company will be exporting to Europe, North America, and the Middle East, are bananas, citrus, passion fruit, kiwano, watermelon, kale, amaranth, mango, avocado and small quantities of pineapple and guava.

'We plan to set up a subsidiary company in Paris by end of August this year as we already own warehouses in that city,' he added. 'I can confirm to you that we have already entered an agreement with the top two supermarket chains in France to supply them fruit by August. The western European country will comprise about 33 per cent of our total exports.'
The company plans to hire an additional 900 employees before the end of the year, Muthama confirmed.
We plan to work closely with scientists to see how we can introduce new fruit varieties which will help us a long way in improving quality, not just quantity', said Phylis Muthama, the company's financial director. 'Since we are now a company, we plan to launch operations in May here in Nairobi, then a subsidiary in Paris this August. We have the capital and workforce.'
Other destinations where the company has established a base include the Netherlands, Belgium, Italy, Germany, Poland, Saudia Arabia, Israel, Japan, and Mexico and the US.
'We already have market bases even before we are oprational,' noted said John Mutiso, marketing manager of Kenya Fruits. 'That is because we have hired the services of market researchers from around the world to help us identify markets. We identified, and we will now go far once we officially launch in mid May.
'With proper planning, our market capitalisation can grow from the US$1.5bn to about US$3bn in two years. This is partly because we own huge farmlands, we have the workforce, plus we have the money to buy more farms, in the end we can grow,' he added.