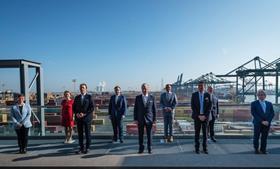 Starting at the MPET terminal, the largest container facility in Europe, King Philippe of Belgium paid a visit to the Port of Antwerp today to see how the port has remained 100 per cent operational since the start of the coronavirus outbreak.
The King was eager to show his appreciation for the 60,000 people ensuring the day-to-day running of the port.
According to the port, the rapid introduction of steps to facilitate social distancing and use of preventive hygiene measures have helped to keep the port going, in addition to the commitment of everyone involved.
From the MPET terminal, which handles 9m containers a year, King Philippe visited the Customs department and the Federal Agency for Food Chain Safety at the Border Inspection Post.
The King was given a briefing on the collaboration between port companies, logistics partners and government authorities in dealing with the Covid-19 crisis. He also spoke to a number of dock workers about how their work was being impacted.
In addition, he was introduced to the new "smart bracelet", an innovation from technology firm Rombit that is set to be trialled at the port to facilitate social distancing and prevent the spread of infection.
"The ability to innovate is a great advantage in times of crisis such as these," a statement from the port read. "Port of Antwerp therefore prioritises innovation, acting as a flywheel for start-ups and Belgian entrepreneurship."
'We are particularly honoured by this visit from the King," said Jacques Vandermeiren, CEO at the Port of Antwerp. "As a major international port we have a crucial role to play in this unprecedented crisis, as His Majesty has highlighted today. This is welcome encouragement for all those employees who are keeping the port running in these difficult times. It is this spirit of solidarity which makes the port so strong.'