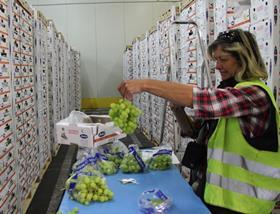 While the recent blockade at the port of Koper may have effected some operations, fresh produce was allowed to continue moving through the facility, although it is currently 'low-season' for fruit and vegetables at the Adriatic port.
According to Milena Slobko-Jerman, part of the sales and marketing team at Luka Koper, while it is currently quieter in terms of perishables, the port is still receiving Egyptian grapes – with a vessel arriving in early July – as well as some bananas and weekly arrivals of Argentinean lemons.
In fact, due to improved direct container connections with Egyptian ports, Koper has been receiving regular weekly deliveries of fruit and vegetables form the country from November.
'We had a better season of Egyptian grapes than last year, with about 1,300 40ft reefer containers, while exports of Polish apples, with over 1,000 40ft reefer containers to the nearby and Middle Eastern areas, have doubled on the previous season,' she told Fruitnet.
'Volumes of Israeli peppers have dropped, but the Israel potato season was surprisingly strong this year,' Slobko-Jerman added.