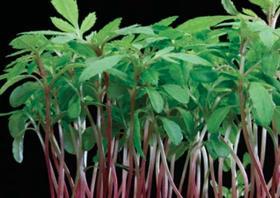 Microgreens specialist Koppert Cress has revealed it is extending its brand reach into Belarus thanks to a new partnership signed with local producer Stanislav Batura-Venzelev.
A licence agreement signed between the two was apparently finalised back in February and, according to the agreement, Batura-Venzelev's family-run business will grow a number of different types of cress and other speciality crops.
All of the products grown as part of the new venture will be marketed under the Koppert Cress brand, and grown in accordance with the group's strict standards in relation to food safety, it said in a statement.
The Batura-Venzelev family has been growing microgreens for several of the top restaurants in Belarus for some time.
"Koppert Cress was looking for a solution to make its products available to customers in the Republic of Belarus," a spokesperson for the Dutch group commented.
"They decided that it was necessary to establish joint work on the production and delivery of various types of cress and their special varieties, flowers, leaves of exotic plants.
"For Stanislav and his wife Anastasia Venzelev, this is a family business where they commit to produce the highest quality products."