Group partners with Global Sustainable Enterprise Systems on CSR targets, circularity, CO2 reduction and biodiversity
Koppert has said it is on the road towards becoming a globally sustainable and green organisation, as it looks to bring more transparency into its processes and operations.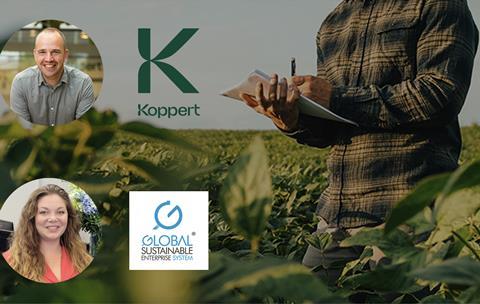 According to the Dutch group, this is being done in partnership with Global Sustainable Enterprise Systems (GSES) with independently verified Control Union certifications for CSR targets, circularity, CO2 reduction and biodiversity, among others.
In 2021, Koppert invited GSES to measure where the company stands as a sustainable organisation, with the aim of setting clear goals on environmental, social and governance targets.
The company then used these measurements as starting points to make informed decisions about its operations; minimise risks, and maximise its positive impact on the world. The company is set to bring its partnership with GSES to a global level in 2023.
"By providing innovative solutions that increase yields and improve environmental resilience and soil quality, Koppert's positive impact on agriculture and horticulture is significant," said GSES chief executive and founder Kelly Ruigrok.
"Sustainability is high on their agenda where they are making continuous steps forward. We recently welcomed major retailers such as Wibra and Xenos, and are so happy that we will now work with Koppert as well to make the world more sustainable."
In order to drive its sustainability both internally and externally, Koppert said that it recognised that new sustainability strategies needed to be drafted.
GSES makes it possible to track the sustainability impact of the company's supply chain, processes and operations, using worldwide accepted standards to holistically measure the sustainability performance of organisations on CSR, sustainable procurement, CO2 reduction, circular economy, health and safety and biodiversity.
Koppert said that overall, the collaboration allowed a whole diagnosis of the meaning and magnitude of its claims of what it is to be a sustainable and green organisation.
"Koppert's vision and mission are the basis for our definition of sustainability and the main drivers for our desire to reduce our impact on the environment," said Edwin Muijt, Koppert's sustainability officer. "To be successful in our ambitions, we need to measure our impact and report on it."
The GSES system is used by companies such as Google, Univé, ABN AMRO and the Dutch Ministry of Foreign Affairs, with GSES operating in more than 110 countries, combining more than 560 sustainability labels, and having more than 70,000 active customers.