Managing director to leave the agricultural certification body after more than 20 years
Kristian Moeller has announced that he will leave GlobalGAP on 1 June after more than 20 years at the farming certification organisation.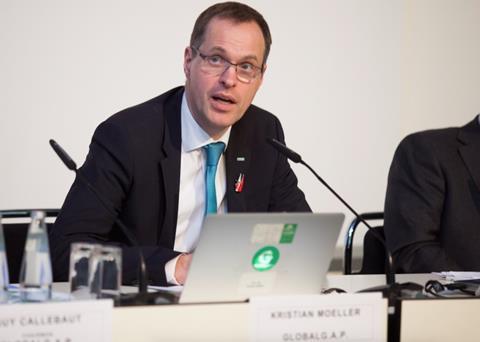 GlobalGAP's managing director has revealed that he is leaving for a new role at the EHI Retail Institute.
In a statement, Moeller said it had been "an honour" to initiate and lead the development and growth of GlobalGAP, and that the certification body's work had "changed the lives of more than 200,000 farmers and their families" and more than 2m farm workers, in addition to "the many million consumers that enjoy access to safer food".
"For more than 20 years we have been on a journey of successfully introducing and establishing GlobalGAP farm assurance solutions, which have now become an international system and a benchmark for safe and responsible practices on farms around the world," said Moeller.
"After having broadened our executive leadership two years ago, I feel it is now a good moment for me to step down and turn my energy towards a new challenging project.
"From 1 June 2023, under the roof of the EHI Retail Institute, I will devote all my time to helping the industry set up a grievance mechanism system that meets the needs of the supply chain due diligence act," he outlined.
Moeller said he was proud of GlobalGAP's team and the "outstanding results" it had achieved, and under the continued leadership of Elmé Coetzer-Boersma and Markus Phillip, the future looked bright.
"Over the 10-plus years that I have been serving on the GlobalGAP advisory board, I have greatly appreciated Kristian's way of closely involving the board in the decision-making process and fostering the spirit of a stakeholder driven organisation," said Guy Callebaut, chairperson of the GlobalGAP advisory board.
"During our regular talks together, for example when preparing board agendas, we kept an eye on the situation and sensitivities in the field while checking how to match our ambitions with reality.
On behalf of all the GlobalGAP advisory board members, I wish him the same success for the future as he has achieved with GlobalGAP," he added.