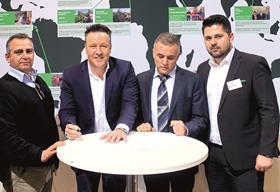 German group Landgard says it has secured three new partnership with agreements in Morocco and Turkey that will enable it to continue its recent development as a major supplier of fresh fruit and vegetables to the retail business.
The newly signed agreements will see Landgard source vegetables from Moroccan family-owned supplier Risouss Agricole, cherries from Turkish producers affiliated with international marketer Unifrutti, and fruit from Izmir-based cherry and grape specialist Cena.
"Together with established regional and national German companies and new growers with interesting product portfolios worldwide – in Morocco or Turkey, for example – we are achieving further important milestones in making our membership base more international in important core segments for our strategic customers in retail and discount," commented Landgard chief executive Armin Rehberg.
'With strong operations such as those mentioned here, we are meeting our strategic customers' requirements for direct production and marketing; for secure, coordinated production with quality management and assurance; for planning security and reliability; for year-round category solutions; and for optimum process reliability from a single source."
He added: "It's all about providing long-term and sustainable services with added value for customers and producers."