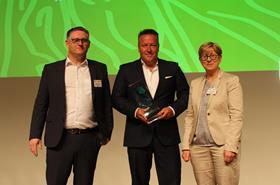 The chief executive of German fresh produce co-op Landgard scooped the Green Mercury prize at this year's German Fruit and Vegetable Congress (DOGK) after spearheading an impressive turnaround in the producer group's fortunes.
Armin Rehberg, who began his career at German retailers Norma and Rewe, was rewarded for his work in pushing the Landgard forward, having taken over amid financial difficulties back in 2013.
'In just a few years, you and your employees have succeeded in freeing Landgard from a difficult situation, strategically realigning the company in a rapidly changing trading environment and adapting to the challenges of the future,' said Michael Schotten, deputy editor-in-chief of Fruitnet's Fruchthandel magazine, which hosts the awards.
At an awards ceremony during DOGK, which was attended by 550 people on 10 September, he added: 'This is largely due to Rehberg's crisis management and management style. And so, despite another difficult environment, the company's financial performance in 2018 was record-breaking for the fifth time in a row. Who would have thought this possible a few years ago?"
Schotten added that Lower Rhine-based cooperative had not only managed to get its finances in order but had also reinvented several parts of the business, through internationalisation, diversification, direct procurement and the establishment of an overseas import business.
For more than two decades, Fruchthandel magazine has awarded the Green Mercury Award for Outstanding Achievements in the Green Segment to personalities, companies and organisations that have made a special contribution to the international fruit and retail trade.