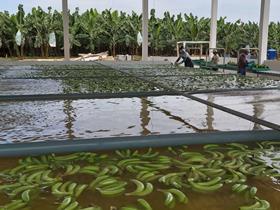 Latin America's biggest banana producers have called for a more equal distribution of costs among all actors in the value chain as they face unprecedented pressure from rising production costs.
On Monday, producer and exporter associations from Ecuador, Colombia, Guatemala, Honduras, the Dominican Republic and Costa Rica, who together account for 60 per cent of global output, issued a statement warning that soaring costs, the ongoing erosion of prices and ever-stricter quality and sustainability standards imposed by the market are unsustainable.
The statement said: "In the course of this year, the banana industry in the region has experienced significant cost increases due to the upsurge in prices of key inputs such as fertilisers (+35-45 per cent), cardboard (+30 per cent), plastic (+45 per cent), the loss of production generated by the new maximum residue limits of the destination markets that do not observe the needs and reality of the region's production, the application of standards imposed by an over-certified market, the adoption of biosecurity measures to prevent Fusarium wilt TR4, the implementation of security measures to prevent the contamination of containers with illicit substances, and also the generalised increase in the cost of maritime freight by up to 62 per cent due to the global shortage of containers, the structuring of operational alliances between shipping lines and the consolidation of this sector.
"These costs have a direct and negative impact on the economic sustainability and competitiveness of the banana industry, which has suffered incalculable damage due to the increasing occurrence of natural phenomena in the region.
"Also, it has not been spared by effects of the Covid-19 pandemic and must implement all the necessary measures to safeguard global food security and protect the health of agricultural workers. While, on the other hand, the price of bananas has undergone in 2021 the most catastrophic decrease in the last 10 years, reaching €10 per 18.5kg as referred by Denis Loeillet, CIRAD researcher, for Reefer Trends in an article published on 1 September 2021.
"The subsistence and future of the banana industry, on which more than 808,000 families in Latin America directly depend, requires that these externalities are not only borne by the producer-exporter countries, which for an extended period have assumed all the care of the plantations, responsibilities, and other sacrifices necessary to bring bananas to every corner of the world, but that the entire value chain is involved, especially at the other end of it.
"It is necessary that, within the framework of the concept of shared responsibility, these crucial aspects are discussed to ensure the commitment of all actors to the sustainability of the global banana industry."