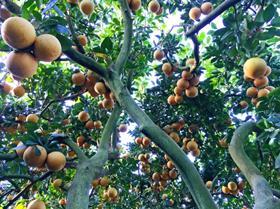 In the first report of the year, the US Department of Agriculture (USDA) has projected production of Florida oranges at 54m boxes and Florida grapefruit at 4.6m boxes for the 2020/21 season, both reflecting adjustments from the previous month's forecast.

Released Tuesday (12 January), the USDA's National Agricultural Statistics Service report predicted a 3.5 per cent decrease in Florida Orange production and 4.5 per cent increase in Florida grapefruit production over December.
Production of specialty citrus held steady with 1.1m boxes expected, the report confirmed.

"While a decline in production is never welcome news, there is positivity to be found elsewhere in the industry," said Shannon Shepp, executive director of the Florida Department of Citrus.
"Grapefruit production is up, growers continue to make great strides against citrus greening and consumers are more focused on health and wellness than ever before,' she added. 'We remain committed to growing Florida Orange Juice as 'The Original Wellness Drink' and ensuring Florida Citrus stays top of mind for consumers around the globe.'