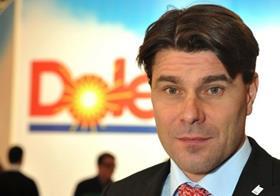 Dole Food Company has announced in a statement that it has appointed Johan Linden as its new president and chief operating officer, replacing the retiring Michael Carter who is vacating both posts.
The fresh produce grower marketer, through a statement by David Murdock, simultaneously welcomed Linden to his new position and thanked Carter for his service.
"Over the past decade, Johan has proven his leadership in successively broader management roles with the company,' said Murdock, Dole's chairman and CEO. 'He has a breadth of global and day-to-day operational experience that will enable us to focus even more on creative initiatives and strategic decision-making.
'I am confident that this management change with Johan as President will bring great value to the Company as we pursue new opportunities in expanding markets,' he continued. "I am looking forward to working more closely with him and our long-established dedicated and strong management team as we continue to grow the Company."
Murdock also thanked Michael Carter for his years of service to Dole, both as an officer and as a director, stating: "Michael Carter has worked closely with me for many years and has been a tireless contributor to Dole, for which I am deeply appreciative and thankful."