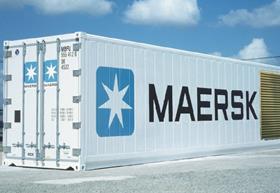 Logistics giant AP Møller-Mærsk has enjoyed a third quarter of strong profitability, driven by an improved year-on-year performance by its Maersk Line division in particular.
Overall group profit for the three-month period climbed 28 per cent, from US$934m in Q3 2012 to US$1.2bn, despite a slight drop in revenue to US$14.56bn – impacted by lower average container freight rates, among other factors.
"We are very satisfied with the operational result which is a consequence of strong performances in most businesses," said group CEO Nils Andersen.
'APM Terminals delivers strong underlying profit and Maersk Drilling continues its solid operational performance,' he continued. 'Maersk Oil's production has bottomed out and stabilised. Maersk Line continues industry leadership on profitability, however, Q4 has started with low freight rates which are expected to affect the fourth-quarter result.'
Maersk Line made a profit of US$554m, up from US$498m, the result of lower costs and a volume increase of 10 per cent.
Maersk said it now expects to report a full-year net result of around US$3.5bn, having earlier forecast a figure of around US$3.3bn for the year – but still down on the net profit of US$4bn seen in 2012.