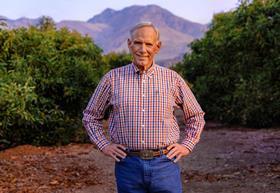 Avocado giant Mission Produce has reported fourth quarter sales of US$206.8m, 11 per cent down on the same period of 2019.
Sales volume increased 16 per cent, but the average selling prices was down 24 per cent on the year-earlier period.
Gross profit was down 7 per cent at US$39.5m, while gross profit margin increased 70 basis points to 19 per cent of revenue compared to 2019. Adjusted EBITDA was US$32.1m, compared to US$36.8m for the same period of 2019.
CEO Steve Barnard said: "I'm extremely proud of the organisation we've built over the past 37 years and our global leadership position in the industry.
The Oxnard, California-based company recently completed an initial public offering, raising US$78.1m to fund its ongoing domestic and international expansion.
"Our October IPO was yet another milestone for our company and we are pleased to be in a position to continue pursuing the significant growth opportunity that lies ahead.
"We have a leading global infrastructure that we continue to invest behind, which enables Mission to address the consumption trends that are driving our business both domestically and abroad."
The company also reported full-year results, showing total revenue for 2020 of US$862.3m, 2 per cent lower than the 2019 total of US$883.3m.
The fall was driven by lower average selling prices, which declined 12 per cent, and were partially offset by volume growth, which increased 11 per cent.
Gross profit for 2020 fell 19 per cent to US$124.6m and gross profit margin decreased 310 basis points to 14.4 per cent of revenue, compared to the year-earlier period.
Gross profit decreased as a result of lower gross margin partially offset by higher sales volumes. The company said gross margin fell primarily due to higher third-party fruit costs during first quarter of fiscal year 2020 compared to the same period of last year.
"The market conditions experienced during the early part of fiscal year 2019 were non-recurring in nature, as customer prices remained steady despite significant declines in fruit costs incurred due to the instability of supply from Mexico," Mission said.
"In addition, gross profit in the international farming segment was negatively impacted by lower sales pricing during the second half of fiscal year 2020 due to larger industry volumes from California and Peru relative to prior year."
Net income for the fiscal year 2020 was US$28.8m, or US$0.45 per diluted share, primarily reflecting lower gross profit and an impairment charge on our equity method investee. This compares with net income of US$71.7m, or US$1.13 per diluted share, for year 2019.