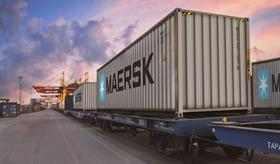 Maersk has announced its AE19 ocean-rail product from Asia to Europe will become a permanent weekly service following increased demand.
The service was originally launched in July 2019 and includes a combination of a short-sea and intercontinental rail product, which connects several origins in Asia with ports in Northern Europe.
The AE19 service complements Maersk's regular Asia-Europe product offering based on conventional ocean services and offers highly competitive transit times from Asia to major ports in Europe.
The service is based on a short-sea connection between Asian origin ports in Korea, Japan or China and the port of Nakhodka in the Russian Far East (operated by Sealand Asia – A Maersk Company), followed by an intercontinental rail connection across Russia from Nakhodka to St. Petersburg, which takes 11 days.
The last leg of the product is another short-sea connection between St. Petersburg and ports in Finland (Helsinki and Rauma), continental Europe, such as Gdansk (Poland), Bremerhaven (Germany), or Scandinavia, operated by Sealand Europe. There is also an eastbound service available.
Zsolt Katona, managing director of Eastern Europe at Maersk, said the service offered faster transit times compared to ocean-only products and significant cost advantage compared to airfreight.
"We are delighted that this unique product, designed for our customers in both Asia and Europe, formally becomes a weekly service and gets a permanent place in our product portfolio" said Katona.
"This has been possible thanks to increased interest from our customers, who appreciate its attractive transit times and cost competitiveness."