Ocean revenue fell year-on-year while profitability was "significantly lower" in a challenging market
AP Moller-Maersk has revealed a first quarter (Q1) of 2023 in line with expectations, as revenue and earnings fell when compared with the same period of 2022.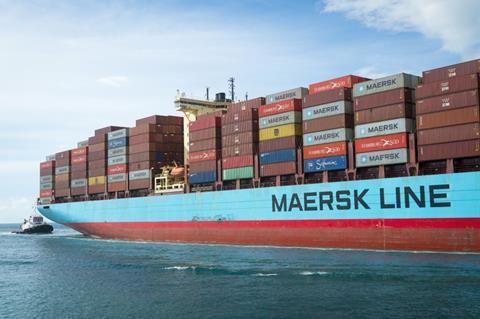 The group said that continued destocking and easing of congestions implied lower volumes across all segments.
Revenue declined by 26 per cent to US$14.2bn from US$19.3bn and EBITDA decreased to US$4bn from US$9.1bn, while EBIT dropped to US$2.3bn from US$7.3bn.
"We delivered a solid financial performance in a challenging market with lower demand caused by a continued destocking," said CEO Vincent Clerc.
"Visibility remains low for the remainder of the year and moving through this market normalisation, we remain focused on proactively managing costs," he outlined.
"As we adjust to a radically changed business environment, we continue to support our customers in addressing their supply chain challenges," Clerc added. "We are pleased to note that customers continue to value the integrated logistics solutions and close partnership we provide.
Ocean revenue decreased by US$5.7bn to US$9.9bn, and profitability for the quarter was "significantly lower" compared to Q1 2022, primarily due to lower freight rates and volumes, and softening demand.
However, proactive cost containment measures had been successful, and the Ocean contract negotiation season was proceeding in line with expectations, Maersk noted.
Guidance for the year remained unchanged and Maersk said it was still based on the expectation that inventory correction would be complete by the end of H1, leading to a more balanced demand environment, that 2023 global GDP growth remained muted, and that the global ocean container market would grow in a range of -2.5 per cent to +0.5 per cent.