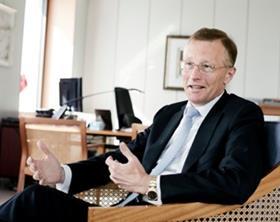 AP Moller-Maersk has announced a strong set of results for the third quarter (Q3) of 2012, with profit well above the prior-year period, driven by a much-improved performance from its container shipping arm Maersk Line.
Profit came in at US$933m (€732m), well ahead of the US$371m (€291m) recorded in the third quarter of 2011, with cash flow from operating activities standing at US$2.9bn (€2.3bn) from US$2.1bn (€1.6bn) last year.
'We deliver a good result for the quarter considering the challenging economic environment,' said group CEO Nils Andersen (pictured). 'Thanks to our rate initiatives and cost reductions, Maersk Line is back in black figures year-to-date, and the high oil price supports a satisfactory result for Maersk Oil. We are expanding our terminals network in Latin America, Russia and other growth markets and expect our strategic initiatives to support both our returns and earnings stability as we move forward.'
Maersk Line's profit for the period was US$498m (€391m), compared with a loss of US$289m (€227m) in 2011, with an average rate increase of 5.7 per cent to US$3,022/FFE with rates higher on all main trades.
Volumes were unchanged at 2.1m FFE, the group noted, with head haul volumes down 15 per cent on the Asia-Europe trade.
'Maersk Line has done what they set out to do when we entered the second quarter and will continue their efforts to secure rates at a level where we can achieve a fair return on our investments,' Andersen added.
APM Terminals' profit for the period was US$160m (€125m), down slightly from US$173m (€136m) last year, while volume throughput increased by 4 per cent to 9m TEU from 8.6m TEU.
The group's overall result for 2012 is forecast to be around US$3.7bn (€2.9bn) from US$3.4bn (€2.7bn) in 2011, with an impairment of US$267m (€209m) in Maersk Tankers recognised in Q3.

'Maersk Line still expects a modest positive result in 2012 based on higher average rates in the second half of the year,' the group noted. 'Global demand for seaborne containers is expected to grow modestly in 2012 with a decline in inbound European volumes.'