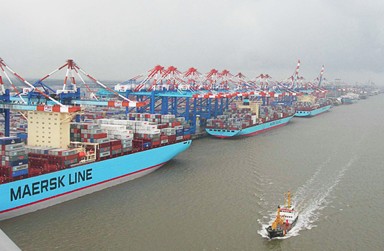 Indonesia's shipping laws stand in the way of Maersk's plans to invest US$3bn over the next five years in expanding its logistics business in the country, reports the Jakarta Globe.
State-Owned Enterprise Minister Rini Soemarno said theDanish shipping company, which has operated in Indonesia since 1958, now sees huge potential in domestic shipping in Indonesia but has come up against legal restrictions.
'[Maersk] expressed interest to transports goods within our territory, in order to reduce logistics costs,' Rini said as quoted by Investor Daily over the weekend. 'But they stumbled upon our shipping law that requires majority shareholders to be locals. They wanted to be the majority.'
The 2008 law states only domestic-controlled shipping firms can transport goods between islands in the archipelago, using locally-registered ships and Indonesian captains. Indonesia also introduced the cabotage principle in 2005 which rules only national ships can carry national cargoes, the report said.
Indonesian President Joko Widodo has reportedly placed an emphasis on sea transportation connecting the commodity-rich eastern part of the country with the manufacturing centres in the western region as part of his infrastructure push.
The government is now revising a list that protect certain business from foreign control in order to attract more investment as part efforts to boost the ailing economy, but Rini did not elaborate whether the shipping sector would be liberalised, the Jakarta Globe said.